Minimise the Risks of Spreading Coronavirus
As the UK Government lifts the current lockdown restrictions and people begin returning to work, it's essential that fever screening and detection is in place in the areas we need it most, especially at the internal or external points of entry into your buildings, offices, hospitals, care homes, airports, train stations, schools, shops, pubs, restaurants and most other public buildings.
People with coronavirus can be carriers without showing symptoms, and for this reason efficient fever screening is essential. Thermal imaging cameras translate heat into visible light. These cameras have the ability to detect Elevated Body Temperature (EBT) in real-time, in large groups of people and with an accuracy of up to ±0.3°C.
Sigma Networks are authorised installers of Hikvision's market leading range of CCTV and thermal camera systems. We provide complete fever screening solutions, from design to installation, for all types of buildings and industry sectors, thereby reducing the risk of spreading COVID-19 amongst your workforce, customers or the public.
Temperature Screening with Access Control
Combined Fever Screening and Metal Detection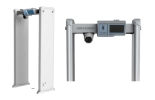 Hikvision's thermal fever screening scanner with metal detector combines a turret camera, display monitor and alarm. It also functions as a metal detector with multiple zones. This system is ideal for building entrances, allowing for the rapid, non-contact screening of large numbers of individuals.
Access Control Face Recognition Terminal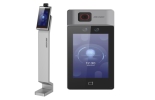 Hikvision's access control face recognition terminal enables rapid thermal imaging-based temperature screening. It measures an individual's skin-surface temperature in real-time, creating an alert if that falls outside of a pre-defined range. Ideal for use in office buildings, train stations and airports.
Hikvision's Range of Thermal Cameras
Why choose Hikvision?
Hikvision's turret, bullet and handheld thermal cameras are able to measure a person's temperature in real-time, enabling you to identify and track people with higher body temperatures. They are accurate to within ±0.3°C, which exceeds the industry minimum standard variation of ±0.5°C.
Mid and Long Range Bullet Cameras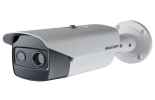 Hikvision's range of single-lens and bi-spectrum bullet cameras provide industry-leading clarity and are available for mid-range (1.5-3m) and long-range (2.5-9m) applications. They feature Hikvision's advanced detectors and imaging processing offering thermal resolutions up to 384x288.
Short Range Turret Cameras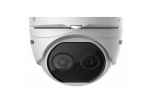 Hikvision's turret series includes single-lens and bi-spectrum turret cameras. With a compact design, these cameras are ideal for short-range applications from 0.8-1.5m with thermal resolution up to 160x120. They feature an alarm which is triggered when the temperature exceeds a limit set by the operator.
Short Range Handheld Cameras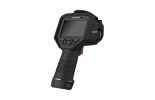 Based on advanced detectors and Hikvision's own image processing algorithm, these handheld cameras offer industry-leading clarity, a detection range of 1.5-2m and thermal resolution of 160x120. They include an integrated rechargeable Li-ion battery capable of providing up to four hours of continuous use.
Combining Fever Screening, Access Control and CCTV
In addition to identifying those with Elevated Body Temperature (EBT), you may also require access control and CCTV systems. Combining these systems will provide you with complete control over the number of people who can access certain areas of your premises, thereby minimising the risk of spreading the disease.
Finance leasing is a popular option for companies who need equipment, such as fever screening, but do not have the funds to pay for it up front. Details and links for this type of financing can be found on the access control and CCTV pages.